Enjoy short-term parking and charge your vehicle free of charge
Short-term charging
A fast charging station for electric vehicles can be found at the ground floor of the PC COMFORT car park. The station allows the customers to charge two vehicles at once using a CHAdeMO plug (up to 50 kW), CCS plug (up to 50 kW), or Type 2 "Mennekes" plug (up to 22 kW). Only one plug can be used to charge using direct current at once. Possible options to charge two vehicles simultaneously: CHAdeMO + Type 2, or CCS + Type 2. Opening hours are from 7:00 a.m. to 8:00 p.m. every day. Parking with fast charging costs 100 CZK / 30 minutes.
This charging station is not designated for long-term charging. For long-term charging, please use the power sockets located at the 3rd, 4th, 5th and 6th level of the PC COMFORT car park.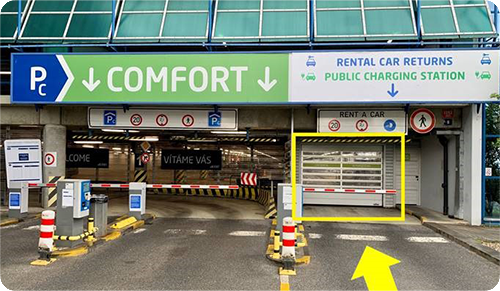 1. Arrival
To enter the PC COMFORT car park, take the right entrance marked PUBLIC CHARGING STATION. Press the button on the entry terminal to contact the dispatcher and inform them about your intention to use the Fast Charging Station. After entering the car park, continue straight ahead. You will see the charging station to the left. Park in the reserved parking spot and report to the dispatcher/Aeroparking counter located in the adjacent hall of the car park where the car rental is also situated. The start time for charging will then be recorded and you will receive a charging station login card.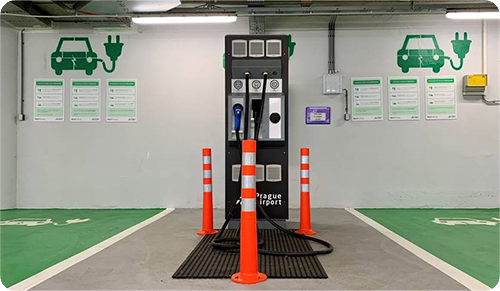 2. Charging
Place the login card on the reader located on the left side of the station. Then follow the on-screen instructions. Connect your vehicle to the charger. In case of doubt, refer to the manuals available at the station. You can also contact the AeroParking staff.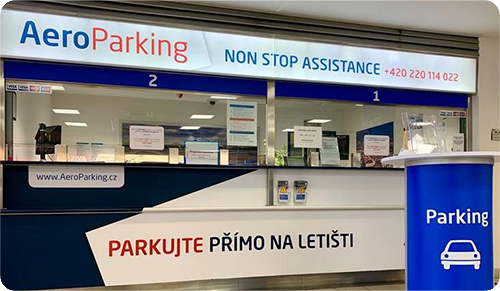 3. Departure
Before your departure, please report to the AeroParking counter again to receive your parking bill according to the current price list. The charging price is included in the price of the parking. Payment can be made in cash or by a payment card. After you return the login card, you will be issued an exit ticket necessary to leave the car park.
Enjoy long-term parking and charge your vehicle free of charge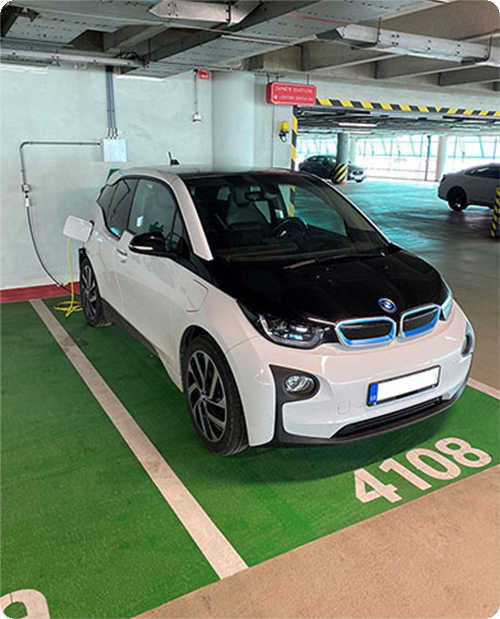 Long-term charging
Charging spots are available at 3rd level (3108-3113), 4th level (4108-4111), 5th level (5110-5115), and 6th level (6027-6032) of the PC Comfort car park. These spots are equipped with 230V power sockets (Type E plug). The parking spots are marked with a green colour and electric vehicle charging station symbol. The parking spots cannot be booked in advance. We are not able to guarantee the availability of the parking spot nor the availability of the power socket. To charge your vehicle, the passengers need their own charger and cable. We are not liable for damage or theft of these devices. Charging is free of charge. Book your long-term parking online and get the best price. You can also arrive without the prior reservation.