Surface brush cleaning and interior cleaning of your car while you park in the PC Comfort Car Park. You are eligible for this service if you park at least two days. Book your parking spot including the car wash service easily in the online booking form.
Benefits:
We will wash your car while you are on a work trip or holidays – you will save time and avoid any worries

After your car is washed, it will be parked on the same floor - no extra handling with the car

We have an insurance for non-standard situations
Enjoy our special offer - complete car wash and cleaning for 490 CZK
The service includes:
Surface brush cleaning and interior cleaning of your car while you park.
High-pressure pre-wash

Summer season

– application of a car shampoo and an insect removal agent

Winter season

– application of a car shampoo

Surface brush cleaning in automatic car wash

Window cleaning

Vacuuming of the interior and luggage compartment

Dry cleaning of the interior,

including treatment of plastic surfaces

Cleaning of rubber mats
When can I use the car wash?
The service is available when you make your online long-term parking reservation in the PC Comfort Car Park. The car wash services can be offered only if you park your car for at least 2 days.
How to book the service?
You can purchase the car wash service for CZK 490 through the online reservation form when you book your parking dates. If the maximum capacity of the car wash is reached, the car washing service will not be shown in the booking system.
The vehicle must not be equipped with a roof rack or similar accessory that prevents the use of a brush washing line.
Instructions for using the service
Car delivery
Please arrive at least 30 minutes before your planned parking time.

Use the entrance designated for car rental returns

and on the parking entry terminal press the button for raising the barrier.

After entering the parking lot, present your confirmation email to the Check-in operator.

A Check-In employee will take your car from you, make an official record and park the car in a designated place.

For extra safety, we recommend that you do not leave any valuables in the vehicle.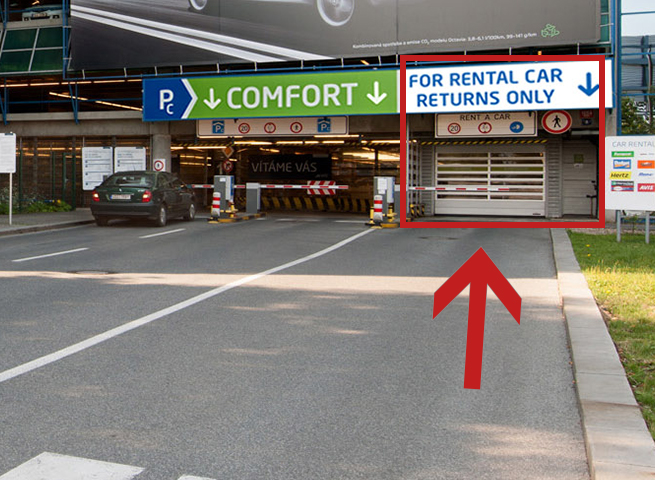 Picking up your car
After your return to Prague, please visit the AeroParking Desk located on the ground floor of the PC Comfort Car Park. 

Show you reservation number and a AeroParking employee will give you an exit ticket that allows you to leave the parking lot

.

A Check-In employee will return your car to you and make an official record.